Discussion Starter
·
#1
·
Hello,
I've bought 2 silver laced wyandottes that are supposed to be young pullets - 16 weeks old - I'm having my doubts as they squared up to another hen the other day with necks all flared up! They appear to be getting a bit of a wattle and comb too but as I'm not familiar with the breed I thought I'd ask you guys for your opinions!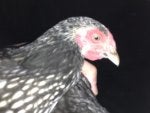 I so hope they aren't cockerels as I have a beautiful Sumatran bantam cockerel and he can be a bad tempered little so and so with other males.
any help would be greatly appreciated.