Discussion Starter
·
#1
·
So we're right in the middle of town and I have an extremely picky obsessive compulsive husband, so I needed a coop that moves and looks nice.
We bought plans from mobilecoops.com and tweaked the measurements to our needs.
Max number of chickens I'd put in this would be 4, but hubs limited us to 3 hens.
Dimensions are 5.5 ft tall x 7ft long x 3.5 ft wide. Had to fit through a 4.5 ft fence gate.
The weight is EXCESSIVE. But it does move. I work out and hubs lifts every day and we have to muscle this thing to move for mowing. But I can move it enough that it doesn't kill the grass ect. I do wish the nesting boxes were external for more protected roost space but I can cover the sides with plastic in bad blowing rain.
And the girls will have free range time in our big back yard everyday.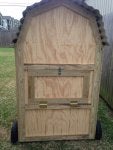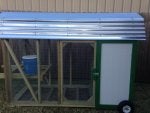 We'll be getting our 7-8 week old blue/black/splash orpingtons at the end of this month!
Will be putting nipple waterer in with bucket and PVC feeder that I'm finishing up.
Sent from my iPhone using Chicken Forum