Discussion Starter
·
#1
·
Hello all! Could you tell me if you know for sure the sex or type or both for my chicks?
The first 4 chicks are to weeks old today and are supposed to be all females:
These are supposed to be production red females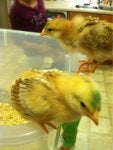 The next 2 are supposed to be Australorps.
The next 4 are my barred rocks 7 weeks old. They were supposed to by 3 females and 1 Roo but I think I have 2 Roo's:
This is Moby chic which is the 1st Roo
This is Charley which was supposed a female but I think is a Roo but his comb is different?!?
This is Faith which is supposed to be a girl
And this is Rosie...i couldn't get a good pick of her
Please let me know if I am right or wrong on their Breeds & sexes. Thanks!!