Discussion Starter
·
#1
·
Yes, I need help on name that breed and is that a rooster. Lol. I have 8 young pullets, I think they are all female. But on has me going hmm.... Maybe not you. So let me post some pictures and help me try to figure this out.
The first 2 are my most in question. I thought they where red leghorns but I was informed that they are production reds.
So do we male/female or both female. I'm mostly questioning the right one. There are no spurs on the feet. But please feedback is needed.
I have no idea what kind is this lady. She has a twin.
This was one of your first ladies we received. Again no idea I'm guessing Golden Sex Link.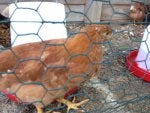 I also think this one is also Golden Sex Link.
Please help me name that bird!