Discussion Starter
·
#1
·
I have started work on my chicken tractor. The whole structure is 12 feet in length, 5 feet in width and 5 feet in height with the actual coop portion being 5' x 5'.
So far it's been a design as you go project. I finished the frame on Tuesday and last night started work on the coop portion. The plan is to construct a removable floor that will allow for easy cleaning then have fixed roosts structured like a ladder leading to the nesting boxes.
Very open to suggestions and will continue to update this thread with new photos as I make more progress.
This is from the first day, it's just the frame built out.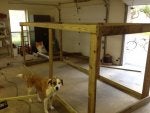 This is from yesterday, we have the platform built out that the removable floor will go on. We put the floor at 18" but the floor frame is 17", so should accommodate even larger birds.